Nitoflor SL 16L Pack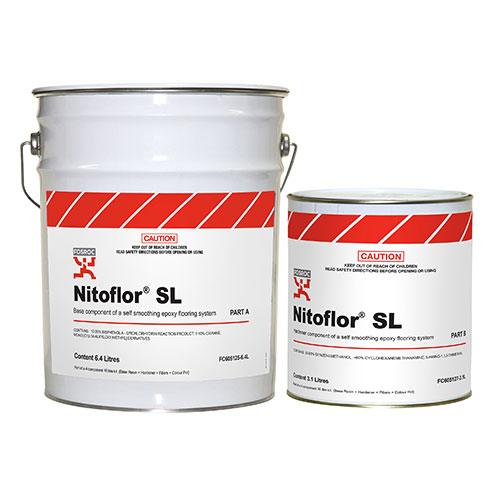 Nitoflor SL
Solvent free, self-smoothing, epoxy floor topping. Non-taint, produces an impervious, chemical resistant finish which is hygienic and easy to clean. Apply at 2-4mm thickness.
For slip resistance, overcoat with Nitoflor FC150HP with added Nitoflor Anti-Slip Grains. Refer to the Nitoflor FC150HP TDS for further information on slip resistance.
Colour floor finishes are achieved by using Nitoflor SL in conjunction with a colour from our Nitoflor Colour Pot range and must be used as part of the kit.
Typical Applications
Hospital clean rooms
Laboratories
Food processing plants
Film studio floors
Prisons
Supermarkets
Light industrial plants
Advantages
Applied from 2 - 4 mm thickness
High flow characteristics combined with an attractive self smoothing finish
Fast application - minimises downtime
Chemically resistant - good resistance to a wide range of chemicals
Durable - good abrasion resistance
Hygienic - provides a dense, impervious, seamless floor surface which is easily cleaned
Attractive - available in a wide range of colours to enhance the working environment
Nitoflor SL is suitable for use in food processing areas, where non-taint is important
Abrasion resistance : Medium
Chemical resistance : Medium
Foot traffic @ 20°C : 24 hours
Full cure @ 20°C : 7 days
Physical or chemical change : 9 g/l
Service temperature range : 60°C
Vehicle traffic @ 20°C : 48 hours
Overview
Typical Applications
Hospital clean rooms
Laboratories
Food processing plants
Film studio floors
Prisons
Supermarkets
Light industrial plants
Advantages
Applied from 2 - 4 mm thickness
High flow characteristics combined with an attractive self smoothing finish
Fast application - minimises downtime
Chemically resistant - good resistance to a wide range of chemicals
Durable - good abrasion resistance
Hygienic - provides a dense, impervious, seamless floor surface which is easily cleaned
Attractive - available in a wide range of colours to enhance the working environment
Nitoflor SL is suitable for use in food processing areas, where non-taint is important
Key Properties
Abrasion resistance : Medium
Chemical resistance : Medium
Foot traffic @ 20°C : 24 hours
Full cure @ 20°C : 7 days
Physical or chemical change : 9 g/l
Service temperature range : 60°C
Vehicle traffic @ 20°C : 48 hours
Test Certificates
Spec Clause
Detail Drawing
Brochures
Bulletins