Nitoflor PU600 18.45KG Pack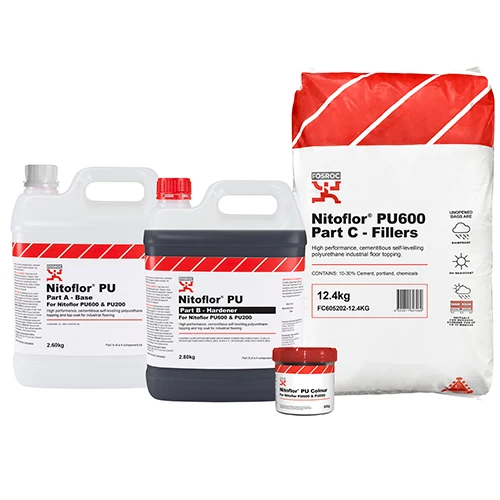 Nitoflor PU600
Nitoflor PU600 has been designed to produce flooring for applications that require high resistance to mechanical stress and chemical attack, that are subject to extreme temperatures and need to be applied within a limited timeframe.
Nitoflor PU600 must be top-coated with Nitoflor PU200.
Colour floor finishes are achieved by using Nitoflor PU600 and PU200 in conjunction with a colour from our Nitoflor PU Colour range, which must be used as part of the system.
Typical Applications
Wet processing zones in chemical processing plants and food preparation and manufacturing areas
Advantages
Handles extreme temperatures
High chemical resistance
Hard wearing - abrasion resistant
Low odour and non-tainting during application
Fast turnaround times
Anti-microbial properties
Very good slip resistance properties with aggregates broadcast
Abrasion resistance : High
Chemical resistance : High
Foot traffic @ 20°C : 24 hours
Full cure @ 20°C : 7 days
Physical or chemical change : 15 g/l
Service temperature range : -25°C to 100°C
Vehicle traffic @ 20°C : 48 hours
Overview
Typical Applications
Wet processing zones in chemical processing plants and food preparation and manufacturing areas
Advantages
Handles extreme temperatures
High chemical resistance
Hard wearing - abrasion resistant
Low odour and non-tainting during application
Fast turnaround times
Anti-microbial properties
Very good slip resistance properties with aggregates broadcast
Key Properties
Abrasion resistance : High
Chemical resistance : High
Foot traffic @ 20°C : 24 hours
Full cure @ 20°C : 7 days
Physical or chemical change : 15 g/l
Service temperature range : -25°C to 100°C
Vehicle traffic @ 20°C : 48 hours
Test Certificates
Spec Clause
Case Studies
Detail Drawing
Fact Sheet
Brochures
Bulletins